The Craft Guild Of Traditional Bowyers and Fletchers
March 2017
Members will be please to learn that Don Adams is now feeling much better after his surgery and is planning to move to England. Court members agreed to designate him Bowyer Emeritus, since he has now retired from bow making. Don was also put forward for the prestigious Gold Certificate of the Bowyer's Company, to which they agreed. He will receive the Certificate on 9th May .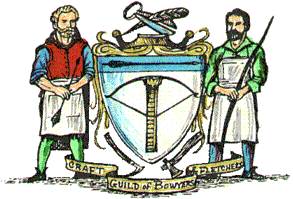 Oct 2015 - Welcome
Welcome to our two newest overseas Associates: Oddbjorn Fritzoe from Barkåker, Norway and Leonard Henry from Atlanta, Georgia.
Congratulations
Congratulations to Jack Pinson, apprentice to Don Adams in Ireland, who successfully passed his assessment for recreational bows on 27th September.
Guildmote 2015.
Despite an unplanned change of venue, everyone seemed to enjoy the event - especially the celebratory shoot, which concluded with toasts to "Old England & the Longbow", " The Worshipful Companies of Bowyers & Fletchers" and "The Craft Guild – to the next 25 years".
We were pleased to welcome the Masters of both the Bowyers and of the Fletchers as our guests; and from Norway Associate Sigmund Skeie. Those who attended received special commemorative gifts; and our retiring Warden, Ken Ward, was presented with a personalised china mug.
The venue for next year presents a problem, as we can no longer use Forest Hall. If anyone has a sensible suggestion please inform the Clerk.
Recognition for retiring Master
At the Guildmote on 29th September 2014 there was much applause from members as Mr Ken Ward, the current Warden, was handed a certificate by under Warden, Mr Mark Stretton, to mark his election to the position of Bowyer Emeritus. Mr Ward has faced a number of health problems over the years and has now decided to hang up his spoke shave - although he will continue as Warden and remain within the Guild. We wish him well in his retirement.
A golden accolade
It was with great delight that members learned that Mr Alan Rogers, one of our founder members, has been awarded the prestigious Gold Certificate of the Worshipful Company of Bowyers. This lifetime achievement award is rarely given and it is a mark of the many ways in which Mr Rogers has contributed to archery, bowyery and to the Guild.
A special luncheon is being arranged for the official presentation at 12 noon on Sat. 29th November 2014 at Badgers' Mount Hotel and Restaurant, 6 Station Road, Elmesthorpe, Leicester LE9 7SG. Telephone: 01455 848161. They have a website for the purpose of accommodation should anyone wish to stay overnight. www.badgersmount.com
A three course meal has been arranged on a self-pay basis, being homemade soup of the day; traditional roast beef with Yorkshire pudding; homemade crumble of the day with custard. Alan says that he would be pleased to hear from any fellow Guild members who might like to attend.
A meeting of `The Craft Guild of Traditional Bowyers and Fletchers` Held at the Woodmen of Arden's grounds in Meriden.
An interesting meeting held on a cold October day, when a large number of members and some invited guests, attended the annual Guildmote. At the request of Hugh Soar, who has retired from his post as Clerk, members and guests took part in a quick session of clout shooting.

"Is my bow made by a Member of `The Craft Guild of Traditional Bowyers and Fletchers`?"
Members of the Guild have a seal in the form of a sticker (as shown) which is placed on their products, also members of the Guild can be found on this website. Check to see if you are not sure, always make sure before you buy.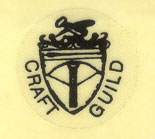 LOOK FOR THIS STICKER
Membership of `The Craft Guild of Traditional Bowyers and Fletchers`
It has come to our attention that certain Bowyers and Fletchers outside `The Craft Guild of Traditional Bowyers and Fletchers` are calling themselves "Master Bowyers" or similar and claiming to be members of Guilds with strikingly similar names to that of `The Craft Guild of Traditional Bowyers and Fletchers`. We would like to make it clear that we are not associated with these people, if people are not using the Guilds full title as mentioned above and/or are not listed on this website in the members section they are obviously not members. Please be aware of this, we have no say in the quality of workmanship of people outside the guild.